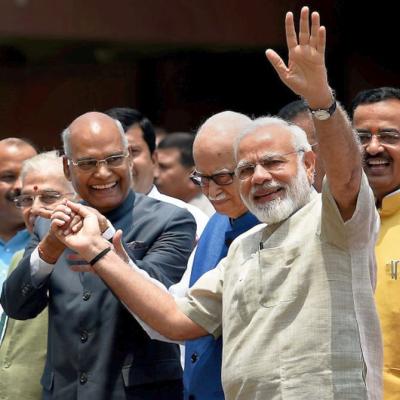 National Security Advisor Ajit Doval and Chief of Army Staff General Bipin Rawat will be briefing President elect Ram Nath Kovind on Saturday on the internal security of the country and the armys preparedness in the eventuality of an external attack.
This is a routine exercise and will be the first time the President elect will know the actual location of Indias nuclear button.
After the results are announced this evening, Kovind, who leads over Meira Kumar by over 2 lakh votes in the first round of counting, is scheduled to meet top most bureaucrats such as Cabinet Secretary PK Sinha and Union Home Secretary Rajiv Mehrishi about the swearing-in ceremony and will also be briefed about the functions of the Union Cabinet. Major General Anil Khosla, who is Military Secretary to the President , will also be at the briefing.
Heres what will happen at the swearing-in ceremony on July 25.

-- Kovind will leave his residence at 10, Akbar Road at
10:15 am escorted by Military Secretary to the President Major General Anil Khosla, to Rashtrapati Bhavan.
-- He will meet outgoing president Pranab Mukherjee.
-- Mukherjee and Kovind will have an intimate meeting where the outgoing president will brief the incumbent on policies related to defence, external affairs and finance.


--
Both leave for Central Hall of Parliament.
-- They will be led by a procession to the Central Hall of Parliament. The Chief Justice of India, Prime Minister, Vice President, Speaker of Lok Sabha will accompany them to the Central Hall.
-- Ram Nath Kovind will be sworn in as the 14
th
President of India in a 14-minute ceremony.