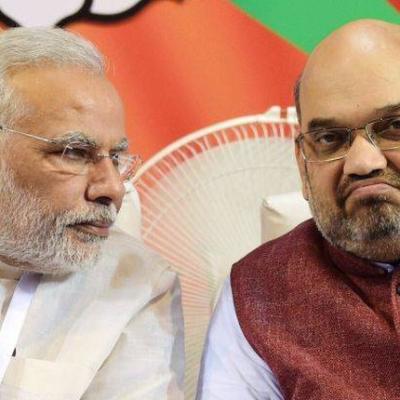 Prime Minister Narendra Modi and BJP president Amit Shah to cast their votes at 10 am in Parliament for the Presidential Poll.
In Varanasi, BJP supporters perform 'hawan' for NDA's presidential nominee Ram Nath Kovind's victory in the Presidential Poll to be held today. 4896 legislators will vote. Voting will take place between 10 am and 5 pm.
Ram Nath Kovind, 71, a lawyer, has served twice as a Rajya Sabha member before he took over as the Bihar Governor. If elected, he will be India's second Dalit president after KR Narayanan, who served from 1997 to 2002.
MPs and MLAs who vote to elect the next President on Monday have been barred from carrying their personal pens inside the voting chamber and will have to mark their ballot with a specially-designed marker, the Election Commission said.

At a meeting of MPs from 17 opposition parties on Sunday, Congress chief Sonia Gandhi said the election is a fight against "narrow-minded communal vision".

"In these contests, the numbers may be against us, but the battle must be fought and fought hard," she said. "We cannot and must not let India be hostage to those who wish to impose upon it a narrow-minded, divisive and communal vision."


Following the ink controversy in the Rajya Sabha polls in Haryana last year, the Election Commission has decided to use special pens for the electors to mark their votes in the presidential and vice presidential polls.
Specially serial-numbered pens with violet ink have been supplied by the Election Commission to ensure that only the writing instrument issued by it is used by voters to mark their votes on Monday.