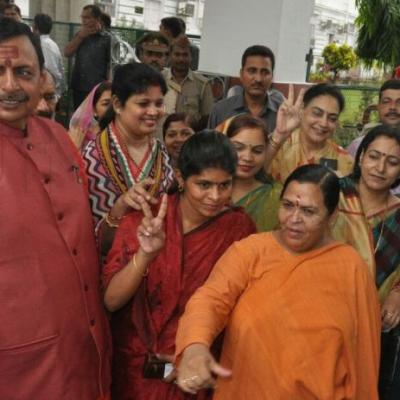 The Election Commission has appointed 33 observers who are overseeing the conduct of the election. While two observers are present in Parliament House, one each is deployed in the respective state assemblies.
The results will be declared on July 20 in New Delhi.
The electorate, comprising elected Lok Sabha and Rajya Sabha members and members of state assemblies, is tilted in favour of the NDA, but the opposition is working to seek support of some regional parties in favour of its candidate.
The tenure of incumbent Pranab Mukherjee, the 13th president of India, ends on July 24. The electoral college, which elects the president through the system of proportional representation, comprises MPs and members of state legislative assemblies.
Image: Union Minister Uma Bharti casts her vote in the UP State assembly in Lucknow.