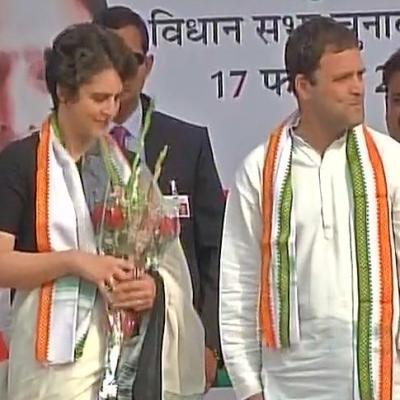 Priyanka Gandhi Vadra at Congress vice president Rahul Gandhi's rally at Sonia Gandhi's parliamentary constituency of Rae Bareli. Priyanka's entry in the campaign comes after Union Minister Smriti Irani said that the Congress' star campaigner was trying to avoid "people's questions" about the "unfulfilled promises" of the Congress.
The Samajwadi Party is going to the polls in alliance with the Congress in the state. Priyanka has actively campaigned for both her mother and brother in their respective parliamentary constituencies - Raebareli and Amethi - in the past.
The third phase of the polls will be held on 19 February
Highlights...
-- We spoke to farmers about their issues. The farmers said three things: Rain, hail and Modiji doesn't give us compensations.
-- They want loans to be waived, electricity rates halved and the right price for our produce.
-- Two crore farmers reached out to us. I went to PM Modi and I said you have forgone debts of rich industrialists. You may do that as you are the Prime Minister. But you should also think of the farmers of Uttar Pradesh.
And his response? Not one word about farmers and their debts.
-- While campaigning in Uttar Pradesh, he said, "As soon as you elect the BJP, we will waive off your loans". What kind of deal are you trying to strike here?
-- The Congress had waived off farmers' loans, even when it wasn't in power.