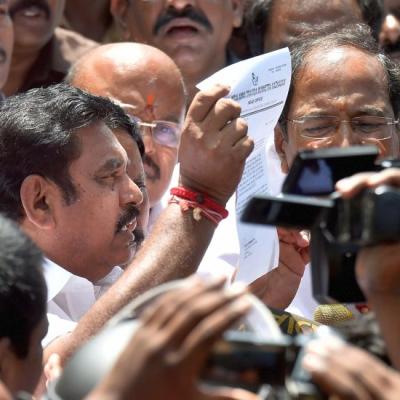 After the trust vote on Saturday, Tamil Nadu CM Edappadi Palaniswami, will meet his mentor, VK Sasikala in jail. Palaniswami was sworn-in as the CM minister yesterday, ending the 10-day political uncertainty in the state which began with caretaker CM O Panneerselvam's revolt against the All India Anna Dravida Munnetra Kazhagam general secretary.
Palaniswami is the third person to occupy the top post in the last nine months. Governor C Vidyasagar Rao administered the oath of office and secrecy to 63-year-old Palaniswami, a party veteran from western Tamil Nadu, at the head of a 31-member Cabinet at a ceremony in the Raj Bhavan on Thursday evening.
The ministers were sworn-in in batches. Palaniswami will seek a vote of confidence on February 18. Speaker P Dhanapal has convened the session of the Tamil Nadu assembly at 11 am on Saturday for the trust vote, Assembly Secretary A M P Jamaludeen said in a statement. "On that day, the vote of confidence will be taken up," he said.
Palaniswami is the third AIADMK leader to be sworn-in as the chief minister in the last nine months. AIADMK supremo and Chief Minister J Jayalalithaa had powered the party to a rare successive term in office in the state in the May, 2016 assembly polls. She continued in the post through her grim 74-day battle for life.