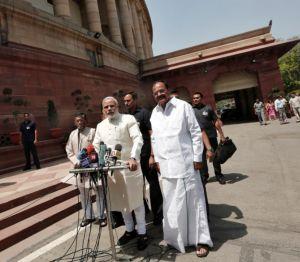 The Rajya Sabha was adjourned for the day soon after it assembled today as Congress insisted that the impasse over the reported remarks by Prime Minister Narendra Modi against his predecessor Manmohan Singh should be resolved first.
For the past week, the opposition has been demanding a clarification from the Prime Minister over his remarks made during the Gujarat election campaign against his predecessor and others.
As soon as the House assembled and papers were laid, Leader of Opposition Ghulam Nabi Azad said the House should be adjourned till afternoon so that a solution can be found to end the impasse prevailing in the House since the first day of its sitting on December 15.
Azad said the opposition too wants the House to function and carry out legislative business. Minister of State for Parliamentary Affairs Vijay Goel suggested that the House should continue to function and in the meantime, a solution is found. -- PTI