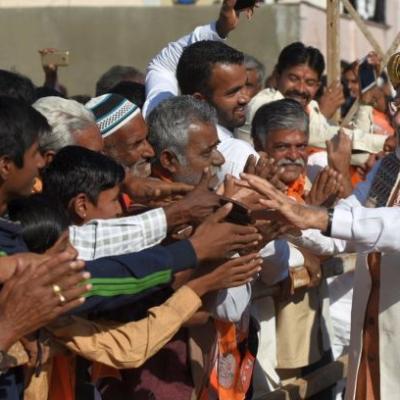 Opinion polls ahead of the Gujarat assembly elections show the BJP getting 105-106 of the state's 182 seats, well over the halfway mark of 92 the party needs to form government a fifth consecutive time, but a smaller margin of victory than last time.
The aggregate of three opinion polls shows the Congress settling for the opposition benches again with 73-74 seats.
The India TV opinion poll predicts that the BJP will get between 106 and 116 seats, the upper end of which range will mean the party equalling its tally last time. The Times Now survey shows the BJP getting 111 seats while the ABP-CSDS opinion poll predicts the lowest tally for Gujarat's ruling party at between 91 and 99 seats.
All three opinion polls show the Congress bettering last time's performance, with India TV predicting that the party will win between 63 and 73 seats, Times Now giving it 68 seats and the ABP-CSDS poll showing a close battle, predicting the Congress will get 78-86 seats.