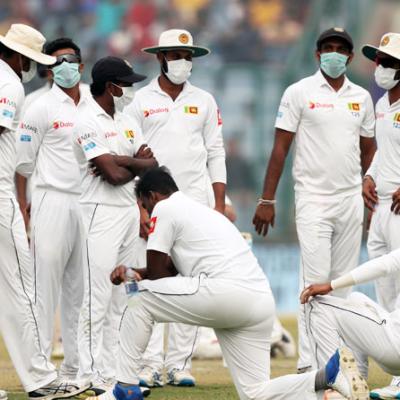 The Indian Medical Association has lashed out at Board of Control for Cricket in India after the mask-gate controversy that hit the Delhi Test between India and Sri Lanka.
The IMA in a letter said that levels of pollutants in the air in Delhi are unhealthy and pose a threat to all.
The letter stated, "Greatly troubled about the recent cricket match between India and Sri Lanka in Delhi played under conditions of high levels of air pollution.
"Air pollution also reduces performance of the athletes. In a situation where milliseconds and millimetres often determine success of athletes, air pollution can be an important factor in affecting their performance."
The sports governing body declined to comment. Indias powerful cricket board accused Sri Lanka of making a big fuss, pointing to Indian skipper Virat Kohli who hit a record sixth Test double century despite the smog.
But the US embassy website also urged Delhi residents to avoid all outdoor exertion as concentrations of the smallest and most harmful airborne pollutants known as PM2.5 soared to hazardous levels.