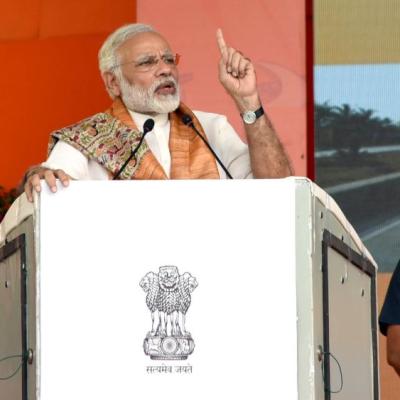 On the final day of campaigning for the phase I of the Gujarat polls, PM Narendra Modi addressing a public meeting in Surat, called out Congress veteran Mani Shankar Aiyar's 'neech insaan' remarks.
"Yes, they called me 'Neech' but our value systems are strong. We have nothing to say to such elements. Our answer will come through the ballot box. We have seen enough insults from them. They insulted me when I was CM. They called me 'Maut Ka Saudagar' and wanted to jail me," PM Modi said.
Aiyar launched a stinging attack on Narendra Modi on Thursday after the prime minister said the grand old party tried to erase the contribution of B R Ambedkar in nation-building. Aiyar said the comments by the PM showed his low-level mindset and one bereft of any manners. "Mujhko lagta hai ki ye aadmi bahut neech kisam ka aadmi hai, isme koi sabhyata nahi hai. Aise mauke par is kisam ki gandi rajniti karne ki kya avashyakta hai? (This shows the low-level mindset of the PM and one bereft of any manners. What is the need of doing such dirty politics on such an occassion)," ANI quoted Aiyar as saying.
Responding to this at Surat, the PM told the crowd, "I beg to the people of India -- please let them be. Let them keep calling me 'Neech', we will not respond. We do not have this mindset and want to congratulate them for theirs. If anything, we will answer them for their mindset with our votes on 9th and 14th.
"Yes, I am from the poor section of society and will spend every moment of my life to work for the poor, Dalits, tribals and OBC communities. They can keep their language, we will do our work."
Ahead of his Surat speech, the PM tweeted, @narendramodi, "I have nothing to say on a wise Congress leader calling me Neech'. This is the Congress mindset. They have their language and we have our work. People will answer them through the ballot box."
This is not the first time Aiyar has made inopportune comments. In the run up to the Lok Sabha polls in 2014, he had called the PM a chaiwallah and rubbished his chances of ever getting to be the prime minister. The BJP went to town on the remark organising the very popular chai pe charcha addas, which saw a surge of support for the party and its prime ministerial candidate. The BJP used the comment to reinforce that the Congress was an elitist party that did not care about the poor.
Union minister Ravi Shankar Prasad, speaking to news agency ANI, said, "Mani Shankar Aiyar has called our PM 'neech' but we are proud of our Prime Minister, he has answered (Mani Shankar Aiyar) very politely and sensibly. Aiyar's mindset is a 'darbaari' one."
Former J-K CM Omar Abdullah tweeted, "If I had as many loose cannons in my party as the Congress seems to have I'd be even more of a basket case than I am now. Gotta hand it to the PM though, if you bowl such loose deliveries in the slog overs he's going to hit them for a six & that's what's been done with the neech nonsense."
File pic.