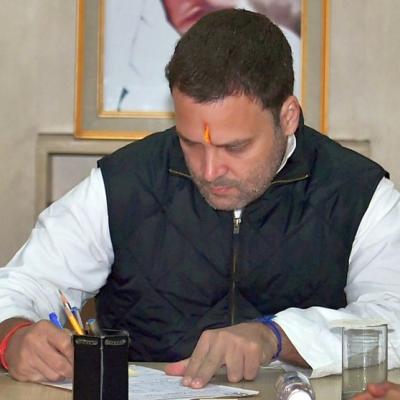 Rahul Gandhi nomination papers: A total of 89 nomination papers all proposing the names of Rahul Gandhi have been received, have been scrutinized and each nomination paper has been found all valid. There is now only one validly nominated candidate that is Rahul Gandhi left in the fray for Congress president election: M Ramachandran, Returning officer.
The Congress vice president on Monday filed his nomination for the post of party president, heralding a generational shift in the leadership of the grand old party seeking a revival in its electoral fortunes.
With no other claimants in the fray and Monday being the last day for filing nominations, his elevation as Congress president is almost certain, party sources said.
The 47-year-old Gandhi scion is set take over the party's reins from Sonia Gandhi, who has steered the party for 19 years, including the 10 when it led the United Progressive Alliance government.