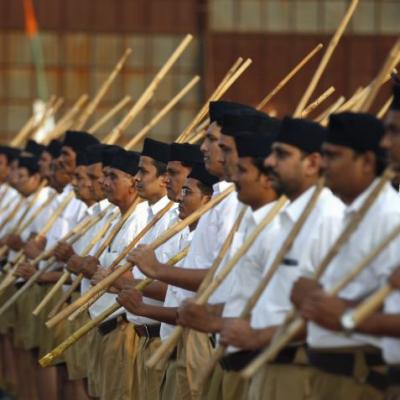 Ahead of the festival of Bakrid, the Muslim Rashtriya Manch (MRM), a Rashtriya Swayamsevak Sangh affiliate, has appealed to Muslims to sacrifice bad habits and not goats.
"Animal sacrifice during Bakrid is a bad practice like Triple Talaq. People should boycott those advocating sacrifice on the day. Giving 'kurbani' during Bakrid is 'haram' (not approved) in Islam," MRM Convenor (Awadh Prant-UP) Syed Hasan Kausar told reporters in Lucknow.
If anyone wanted to give sacrifice, he should 'shun his bad habits and cut a (symbolic) goat cake', on Bakrid, which will be celebrated on September 2, he said.
Kausar said that there were a number of superstitions among Muslims about animal sacrifice and added that those who get better education would 'understand Islam'.
Meanwhile, MRM co-convernor K A Khurshid Agha advocated a Ram temple in Ayodhya.
"As per Quran, prayers can not be offered at a disputed place, so how can the Babri mosque be constructed at the disputed site at Ayodhya," he said.
Earlier this month, the Manch had announced that it would launch a countrywide campaign to persuade Muslims against sacrificing cows on Bakrid with a special focus on Uttar Pradesh, West Bengal and Bihar. --
PTI