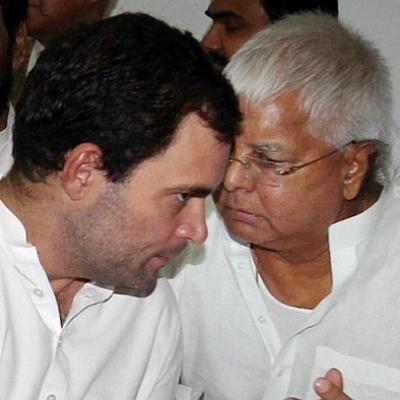 West Bengal Chief Minister Mamata Banerjee and rebel Jnata Dal-United leader Sharad Yadav would attend the Rashtriya Janata Dal rally in Patna on August 27 and Mayawati's absence from the event was not a 'setback', party chief Lalu Prasad Yadav said today.
"I had a talk with Mayawati. She said senior BSP (Bahujan Samaj Party) leader Satish Mishra would come for the rally," he told reporters.
The RJD chief said senior Congress leaders Ghulam Nabi Azad and C P Joshi would also attend the rally with a message from Congress president Sonia Gandhi.
Asked about the chances of Congress vice-president Rahul Gandhi attending the event, Lalu said, "He could also be there."
He also claimed that Trinamool Congress supremo Mamata Banerjee and rebel JD-U leader Sharad Yadav would be on the dais that day.
At the time of announcing the 'BJP Bhagao Rally' (oust Bharatiya Janata Party rally) at the Gandhi Maidan in Patna, Lalu had boasted of bringing Mayawati and Samajwadi Party president Akhilesh Yadav together on one platform, which would mean the 'end of the match for the BJP in the 2019 Lok Sabha polls'.
Back then, JD-U chief Nitish Kumar was in the Grand Alliance, also comprising the RJD and the Congress, and Lalu, while heralding his coming together with Kumar in Bihar, had said joining hands by the SP and the BSP -- the two arch rivals in Uttar Pradesh -- would spell doom for the BJP in the next general election.
Asked about Kumar's and JD-U principal general secretary K C Tyagi's comments that if Sharad Yadav attends the rally against the party line, he would lose his Rajya Sabha membership, Lalu claimed that there was no such provision.
"Is there any provision like this in any party?...Political party leaders attend rallies organised by others...it does not come under the anti-defection law," he said.
Lalu further said, "Sharad Yadav represents the true JD-U."
Sharad Yadav, who had attended a parallel 'Jan Adalat' meeting, instead of attending the JD-U national executive meeting on Saturday, had asserted, "Mahagathbandhan
jaari hai
(the Grand Alliance is continuing)."
The RJD chief is criss-crossing the state to mobilise people for the August 27 rally, which he has claimed would be a major occasion to bring together the secular forces on one platform against the BJP ahead of the 2019 polls. --
PTI