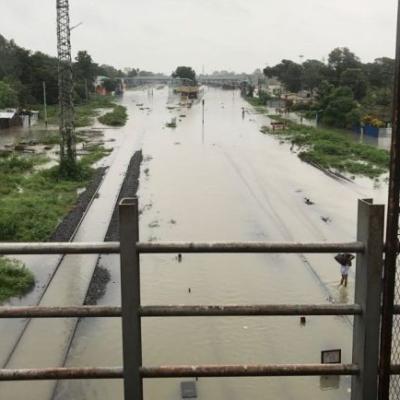 Union Home Minister Rajnath Singh today spoke to Bihar Chief Minister Nitish Kumar and discussed with him the flood situation in the state where nearly 320 National Disaster Response Force personnel have been rushed.
During the telephonic conversation, Kumar briefed Singh about the latest situation in the state.
'The Centre is rushing additional NDRF teams to Bihar to help the ongoing rescue and relief operations in the flood affected region of the state,' Singh said in a tweet.
A home ministry official said that as many as seven teams of National Disaster Response Force, comprising 45 personnel in each, have already reached the affected areas in Bihar.
Bihar Chief Minister Nitish Kumar informed that due to heavy rain in Nepal and rise in water level in Tapti and Mahananda rivers, north eastern Bihar is flooded.
"Have been taking stock of situation. I have requested for deployment of Army. NDRF and SDRF teams are at work. Have spoken to the PM, Union home minister and defence minister," Kumar said.
Later, the NDRF said that 10 teams have been deployed in Bihar's flood affected districts Supaul, Darbhanga, Muzaffarpur, Betiah, Motihari, Kishanganj, Purnia and Dedarganj.
'To expand the rescue operation, four more NDRF teams are being airlifted from Bhuwneshwar, Odisha to Purnia,' it said.
'17 flood rescue teams of NDRF have been deployed in flood affected districts of Assam, one team in Tripura and 12 teams in West Bengal,' the NDRF said.
Meanwhile, five trains cancelled in view of heavy rainfall and flood at Kishanganj station (in Katihar division) and the surrounding areas. --
ANI