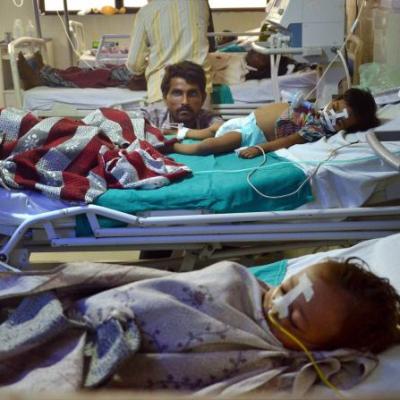 JUST IN
: Dr Kafeel Khan has been removed as the Nodal Officer for the Department of Pediatrics of Baba Raghav Das Medical College, Gorakhpur.
Dr Bhupendra Sharma has been appointed as new Nodal Officer for the Department of Pediatrics, whereas Dr P K Singh, principal of Rajkiya Medical College, Ambedkar Nagar, has been given additional charge of BRD Medical College.
Dr Khan has been hailed as a saviour of many children at the hospital in various media reports.
A
report
in DNA said Dr Khan 'the head of the encephalitis ward and a paediatrician, managed to save many lives and the parents in the hospital had said that had it not been for Khans work, the number of deaths in the past 48 hours would be more than 36.'
The report says that Dr Khan not only 'borrowed' oxygen cylinders from his friends' nursing homes to save the lives of children but also gave 'his ATM card to withdraw Rs 10,000 to a staff' when he came to know that a local supplier was ready to provide oxygen cylinders.
There has been no reason cited for the removal of Dr Khan.
The decision came soon after the visit of Chief Minister Yogi Adityanath. --
ANI, Agencies
IMAGE: Children at the state-run Baba Raghav Das Medical College in Gorakhpur on Saturday. Photograph: PTI Photo