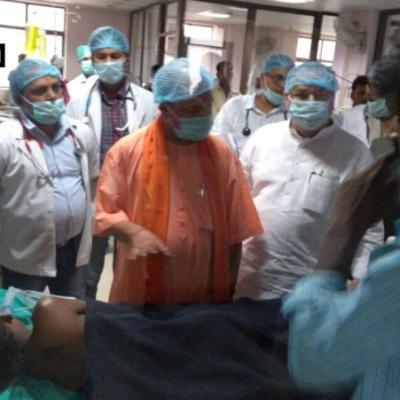 Uttar Pradesh Chief Minister Yogi Adityanath and Union Health Minister J P Nadda visit BRD Hospital in Gorakhpur where children are dying allegedly due to lack of oxygen supply.
Gorakhpur is Adityanath's Lok Sabha constituency.
At a press conference on Saturday, Adityanath had said that 'those found guilty won't be spared'.
He also emphasised on the fact that Japanese encephalitis remains a challenge for his government and assured that a solution has been found to address the menace.
Meanwhile, criticising the chief minister, Congress leader Raj Babbar siad, "What will you investigate? You already gave verdict that the deaths were not due to lack of oxygen." --
ANI
IMAGE: UP CM Yogi Adityanath and Union Health Minister J P Nadda visit BRD Medical College in Gorakhpur on Sunday. Photograph: ANI