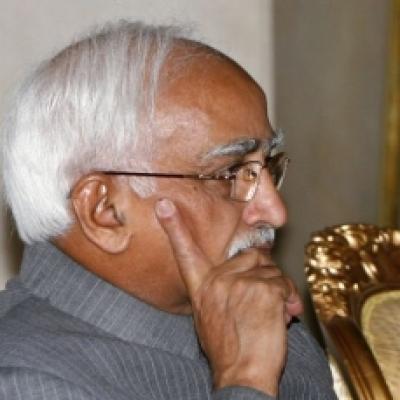 Rashtriya Swayamsevak Sangh leader Indresh Kumar on Saturday said there were no takers for former vice president Hamid Ansari's recent 'insecurity among Muslims remark' even within the community.
He called the former vice president 'unfortunate' as no one came out in support of his remarks.
"Hamid Ansari is such an unfortunate (
durbhagyashali
) person that no one in the country came forward in his support. Muslims in large numbers also opposed his comments," said Kumar in Nagpur.
Attacking the former vice president, he said all the while during his ten-year tenure as vice president he (Ansari) was secular and after demitting the post he has become hardliner (
kattarpanti
).
The RSS leader also exhorted all those sharing a similar mindset to tell the name of the country where Muslims are secure.
"I have one request to him (Ansari) and people like him who feel that Muslims are insecure, they should tell the name of the country where Muslims are secure and they should go and live in that country where they feel secure," Kumar said. --
PTI