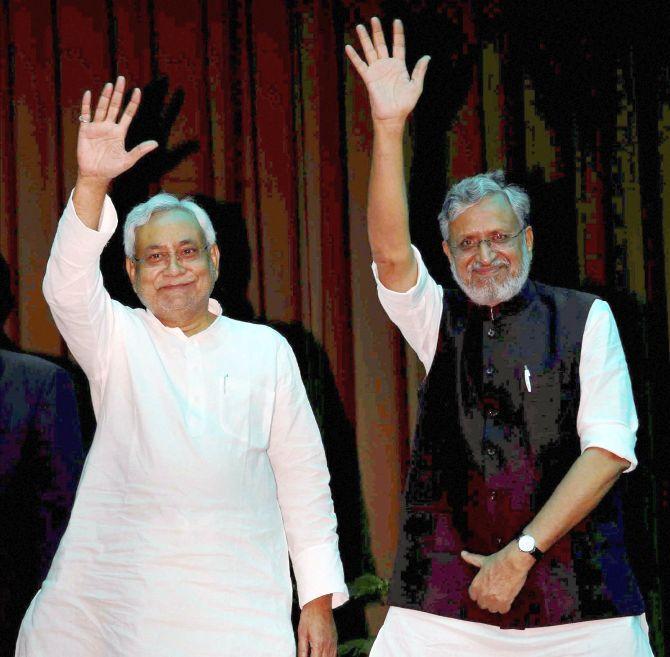 RJD chief Lalu Prasad on Saturday demanded that Bihar chief minister sack his deputy Chief Minister Sushil Kumar Modi, lodge a case against him and arrest him for his direct involvement in a Rs 1,000 crore scam.
A day after he demanded a CBI probe into the scam involving Deputy Chief Minister Sushil Kumar Modi and an NGO, where funds were illegally transferred to private accounts between 2005 and 2010, Lalu Prasad said, "Nitish Kumar should sack Modi from his ministry immediately if he has zero tolerance against corruption and lodge an FIR against him and arrest him. There is solid evidence of Modis involvement in the scam when he was the Bihar finance minister."
Lalu Prasad also threatened that the RJD will not allow the functioning of the monsoon session of Bihar aassembly beginning in the third week of August if Modi was not sacked by Nitish Kumar.
Lalu Prasad said Modi is not only senor BJP leaders behind this scam,which is bigger than the fodder scam that surfaced in mid 90s.Modi and other BJP leaders including BJP MP Ashwani Kumar Choubey, Manoj Tiwari and former union minister Shahnawaz Hussain are involved in the scam.
This scam happended in full knowledge of Modi,who wass Bihar finance minister from 2005 till 2013 June.None but as a finance minister Modi is responsible for the scamLalu Prasad said.
Lalu Prasad recalled that in a similar case, charges against him in the fodder sacam is that as he was finance minister ,he was responsible for the fodder scam.
-- M I Khan in Patna