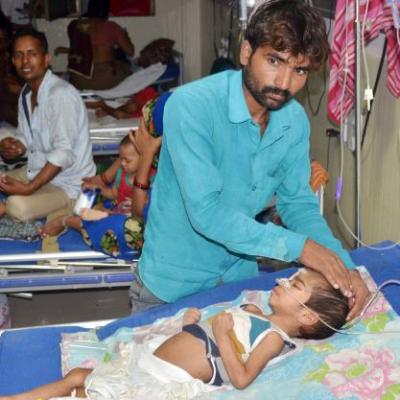 Uttar Pradesh Chief Minister Yogi Adityanath has called an emergency meeting today following the tragic deaths of over 30 infants at Gorakhpur's Baba Raghav Das Medical College's hospital due to alleged disruption in the supply of liquid oxygen.
Health Minister Siddharth Nath Singh and Minister for Medical Education Ashutosh Tandon will visit Gorakhpur after meeting the chief minister.
Earlier in the day, the alleged disruption in the supply of liquid oxygen at the hospital claimed lives of two more children.
The shortage of oxygen allegedly led to encephalitis, which is a sudden onset inflammation of the brain, following which the children died.
The families of the children have claimed that the doctors were not treating them well and the hospital was not even providing the medicines which were required for the treatment.
As per the locals, though the hospital is supposed to provide free medical assistance, neither is there any proper medical facility available nor are the patients provided free medicines.
Earlier on Friday, it was reported that as many as 30 children lost their lives due to encephalitis in a span of 48 hours at the hospital.