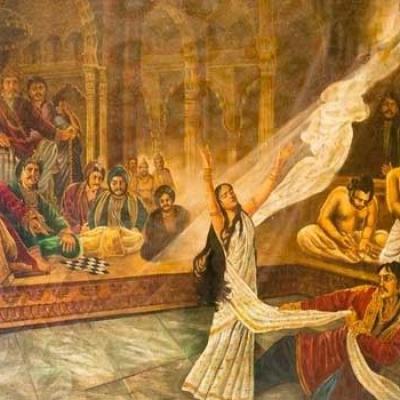 TN court summons actor Kamal Haasan on Hindu Makkal Katchi plea that he had defamed the Hindu religion by making remarks about the Mahabharata.
A PIL was filed against the veteran actor for allegedly hurting Hindu sentiments and causing enmity between groups and cause disturbance to public tranquility.
It was filed after Haasan made certain comments about the Mahabharata to a Tamil news channel. Haasan had expressed shock that Indians celebrated a book in which a woman (Draupadi) was depicted as an object and men (the Pandvas), as gambling her away.
India Today reported that it was a religious group, Hindu Makkal Katchi (HMK) of the Tirunelveli district of Tamil Nadu, that filed the PIL against Haasan. They also dubbed him as an anti-Hindu.
Image: A painting depicting Draupadi's vastraharan.