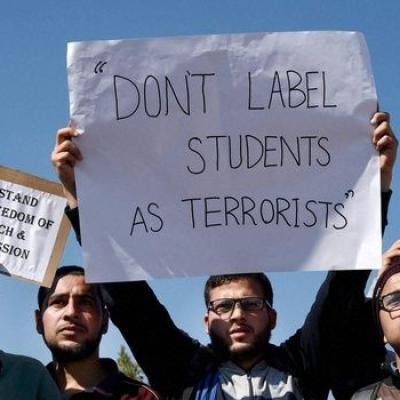 Union Home Minister Rajnath Singh on Friday called upon all states to ensure the safety of all Kashmiris everywhere in the country, saying they were equal citizens of India. His appeal comes a day after six Kashmiri students studying in Mewar University, Rajasthan were injured following a scuffle with locals at a market in Chittorgarh district.
Banners calling for boycott of Kashmiris and asking people from the Valley to leave Uttar Pradesh have also come up in Meerut in the wake of incidents of stonepelting on security forces in Kashmir.
The Home Minister said today, "I have asked the Home Secretary to immediately issue an advisory to all the states to ensure the safety and security of Kashmiri students.
"The Kashmiri youth also contribute in the progress of India. Action should be taken by the states against those who target them."
Stating that Kashmiris were a part of the family, he appealed to everyone to ensure the safety of Kashmiri students living in other parts of the country.
Meanwhile, a meeting of Ram Madhav, J&K minister Haseeb Drabu, BJP leaders Avinash Rai Khanna and Satpal Sharma underway at BJP office in Jammu.
Image: Kashmir University students protests in the aftermath of the Uri attack in 2016, when they were targetted across the country.