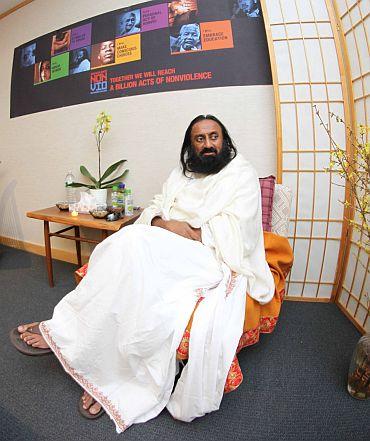 Spiritual leader Sri Sri Ravi Shankar's comment that he had refused the Nobel Peace Prize earned him a top trend on Twitter. Sri Sri reportedly said that he had not only refused the Prize but also criticised the Nobel Committee for conferring the prize on Pakistani school girl Malala Yousafzai.
Speaking to the Deccan Chronicle, Sri Sri said, "I was in the past offered the Nobel Peace Prize, but I had rejected it as I only believe in working and not in being honoured for my work. We should always give honour only to those who deserve it and I am totally against honouring Malala Yousafzai with the prize and it is of no use."
Sri Sri made the remarks in Latur over the weekend while he was on a visit to the drought-ravaged region of Maharashtra.
His Art of Living Foundation is working to help farmers in the area with irrigation projects.
Last month, Sri Sri said that he had offered to initiate peace talks with terror group ISIS, but they responded by sending him a photograph of a beheaded man. "I think the ISIS does not want any peace talks. Hence, they should be dealt with militarily," he summarized. He had trended promptly again for making a statement that should have been a given.