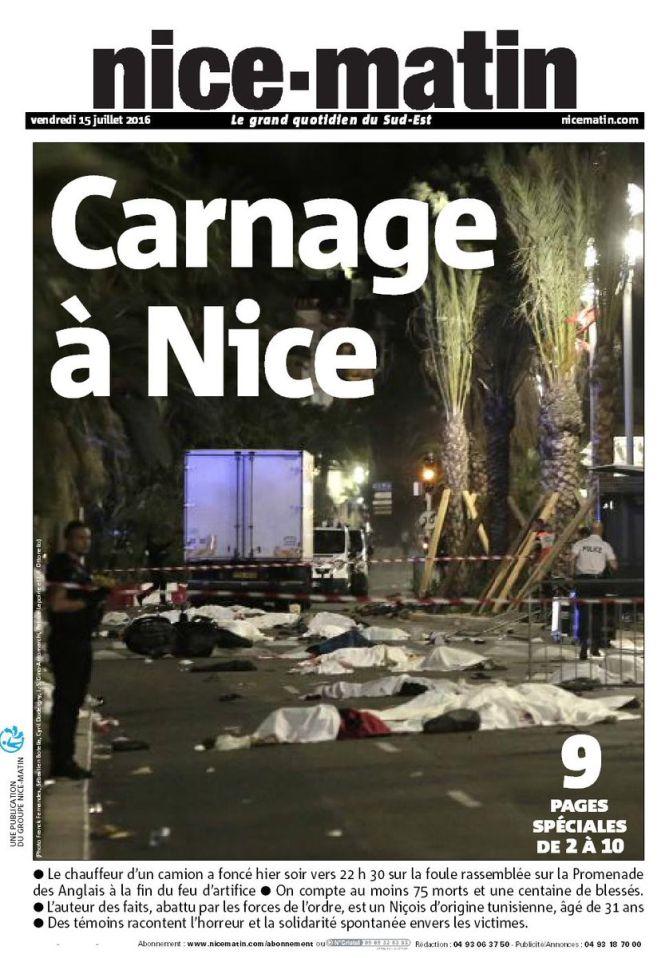 The France truck attacker formally identified, says police source. The truck driver who killed 84 people celebrating Bastille Day in the French Riveria city of Nice, is believed to be of Tunisian descent.
He is a 31-year-old Franco-Tunisian man whose identity papers were found in the vehicle after the attack on France's July 14 national holiday.
Police have not yet released the attacker's name, but they said he lived in Nice. Other sources said previously he was already known to police for minor criminal offences.
Police shot the driver dead after he drove the truck two kilometres through a crowd along the palm-lined Promenade des Anglais. Interior ministry spokesman Pierre-Henry Brandet said 84 people were killed and scores injured, including 18 in "critical condition".
He was purposefully aiming the vehicle at the crowd and "zigzagging" so that he could hit as many people as possible.
According to media reports, the attacker drove into the crowd for about 2 km before he was overpowered.
The NYT reports that so numerous were the bodies that to protect their dignity, people had covered some of them with tablecloths snatched from the restaurants lining the Promenade des Anglais.
Damien Allemand, journalist with the Nice-Matin newspaper who was at the waterside, said the fireworks display had finished and the crowd had got up to leave when they heard a noise and cries.
"A fraction of a second later, an enormous white truck came along at a crazy speed, turning the wheel to mow down the maximum number of people," he said, adding, "I saw bodies flying like bowling pins along its route. Heard noises, cries that I will never forget."
An eyewitness told BFM TV: 'Everyone was calling run, run, run... there is an attack run, run, run. We heard some shots. We thought they were fireworks because it's the 14th of July.'
'There was great panic. We were running too because we didn't want to stick around and we went into a hotel to get to safety.
An eyewitness to the incident, Pierre Roux, whose apartment faces the sea, told the New York Times, that he had first thought that the truck was simply out of control. But then he noticed that the lights were off and there was no honking.
"Nobody in the way stood a chance," he said.
He had come out of his apartment early Friday to place a burning candle on a white sheet covering a body that was unattended.
As he spoke, heavily armed police officers sealed off a widening perimeter of the city.