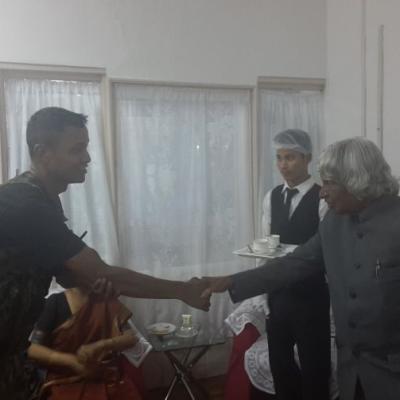 Often Dr Kalam would ask me, "You are young, decide what will like to be remembered for?" I kept thinking of new impressive answers, till one day I gave up and resorted to tit-for-tat. I asked him back, "First you tell me, what will you like to be remembered for? President, Scientist, Writer, Missile man, India 2020, Target 3 billion... What?"
I thought I had made the question easier by giving options, but he sprang on me a surprise. "Teacher," he said.
Then something he said two weeks back when we were discussing about his missile time friends. He said, "Children need to take care of their parents. It is sad that sometimes this is not happening."
He paused and said, "Two things. Elders must also do. Never leave wealth at your deathbed -- that leaves a fighting family. Second, one is blessed is one can die working, standing tall without any long drawn ailing. Goodbyes should be short, really short."
Today, I look back -- he took the final journey, teaching, what he always wanted to be remembered doing. And, till his final moment he was standing, working and lecturing. He left us, as a great teacher, standing tall. He leaves the world with nothing accumulated in his account but loads of wishes and love of people. He was successful, even in the end. Srijan Pal Singh, advisor to President A P J Abdul Kalam, recalls his final journey to IIM-Shillong.
Read