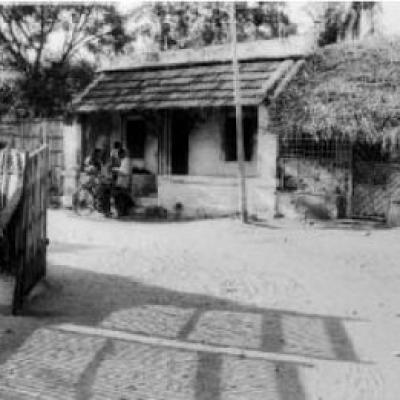 Dr Kalam's home in Rameswaram. His father, a humble boat owner, Jainulabdeen, was a devout Muslim and a close friend of the Rameswaran temple priest.
Kalam was brought up in a multi-religious, tolerant society; one with a progressive outlook.
His father often quoted from the Quran to make the young Kalam see the world without fear.
He had seven siblings, and a doting mother who, at times, made chappatis for Kalam, while the others were given rice as Kalam's day would start at four in the morning and end at 11 pm.
His father wasn't educated, but he wanted Kalam to study.
Kalam would get up at 4 am, bathe, and then go for his mathematics class, which was taught by a teacher who took only five students in the whole session; and bathing before class was a condition he had laid to all his students.
After his morning class, Kalam along with his cousin Samsuddin went around town distributing the newspaper.
As the town had no electricity, kerosene lamps were lit at his home between 7 pm and 9 pm. But because Kalam studied until 11, his mother would save some for him for later use.