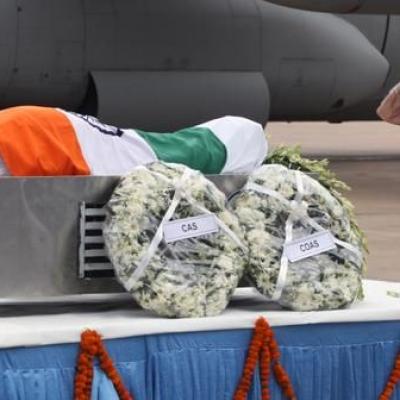 This 96-year-old made it a point to pay his respects to former President APJ Kalam at Palam airport this morning. As Dr Kalam's body reached New Delhi from Guwahati, Arjan Singh, a Marshal of the Indian Air Force, walked up to Dr Kalam's tri-colour wrapped body and said his final goodbye.
The Marshal, is the only officer of the Indian Air Force to be promoted to five-star rank.
Arjan Singh, who was born in 1919, led the no 1 Squadron of the Indian Air Force into command during the Arakan Campaign in 1944. He received Distinguished Flying Cross (DFC) award in 1944. He also commanded the IAF Exhibition Flight in 1945.
Arjan Singh was awarded the Padma Vibhushan for his leadership of the Air Force, and subsequently in recognition of the Air Force's contribution in the war, the rank of the CAS was upgraded to that of Air Chief Marshal following which Arjan Singh became the first Air Chief Marshal of the Indian Air Force.
He retired in August 1969, thereupon accepting ambassadorship to Switzerland. He remained a flyer to the end of his tenure in the IAF, visiting forward squadrons and units and flying with them. Arjan Singh remains a source of inspiration to a generation of Indians and officers.