BJP can kill its own men to come to power: Kejriwal
April 14, 2014 16:56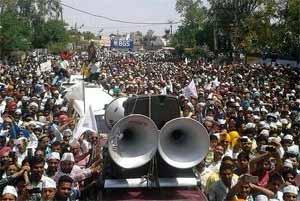 Launching a scathing attack on the BJP, Aam Aadmi Party leader Arvind Kejriwal today alleged that the saffron party leaders were capable of "killing their own men to come to power".

Referring to a recent sting done by a news portal which alleged that the 1992 Babri mosque demolition was a "planned act of sabotage" he said, "BJP people also undertake killings of the Hindus, children and their own cadres. They are not concerned with Hindus and Muslims. For coming to power, all are equal for them. Why dont we understand this?"

He was speaking at a book launch "Dehleez Par Dil" co-authored by AAP spokesperson Dilip Pandey. The book revolves around Kejriwal, Pandey and the India Against Corruption (IAC) movement.

The picture tweeted by AAP at the rally in Punjab today.

« Back to LIVE