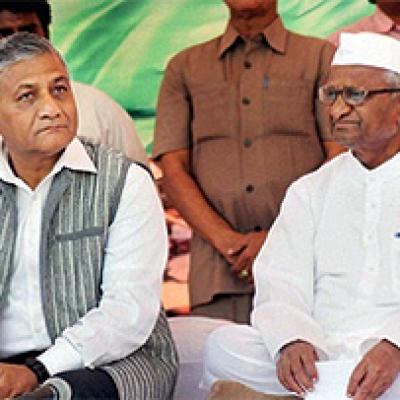 Gopal Rai, who is a member of the National Executive of the Aam Aadmi party tweets, saying he is leaving Ralegan Siddhi, but will keep fasting for JanLokpal. Some people are unhappy with Anna and AAP coming together.
If you've just joined us: Rai, who is at Ralegan Siddhi fasting with Anna Hazare for the Janlokpal Bill to be passed in this session of Parliament, was asked to leave the venue.
According to reports, Rai was asked to leave after a heated argument broke out between him and former Army chief VK Singh.
Three AAP members- Kumar Vishwas, Sanjay Singh and Gopal Rai- arrived in Ralegan Siddhi on Thursday to join Hazare.
What happened was this: Former army chief VK Singh, who is an ardent Anna Hazare supporter was speaking at the Ralegan Siddhi rally, when he said "some people think they are bigger than Anna." Without naming Kejriwal, VK Singh said that people were extracting mileage from being associated with Hazare.
Rai, an AAP member, objected to what he believed was a snide reference made to Arvind Kejriwal.
Anna rebuked Rai saying he was not welcome to join the fast with him and had told him so earlier. "We haven't not asked you to fast, if you want to create a noise then you can leave Ralegan Siddhi," said Hazare.
Anna and Arvind Kejriwal split ways after the formation of AAP. Anna has always insisted that the Janlokpal movement should not be politicised.
"Someone who deserted Anna and joined hands with Modi is accusing others of betrayal," Rai later said, referring to General Singh who was seen with Narendra Modi at a rally in Haryana couple of months back.