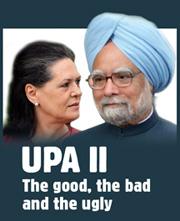 The Congress success in the parliamentary election last year had unleashed a wave of optimism but that feel-good mood is now a thing of the past, writes Harsh V Pant.
Finally, we heard from the prime minister. Manmohan Singh [ Images ] rarely interacts with the media and even rarer are his attempts to reach out to the ordinary Indians, explaining to them why he is doing what he is doing.
Maybe that's the task that he has left for Sonia Gandhi [ Images ] and the heir apparent, Rahul Gandhi [ Images ]. But a vibrant democracy requires continued public engagement from its politicians and constant communication between the leader and the led.
The prime minister's message during his press conference marking the first anniversary of the UPA-II was not inspirational but rather a tad bureaucratic, suggesting that India [ Images ] must reach 10 percent economic growth in coming years and also improve relations with Pakistan if it wants to reduce poverty and make rapid progress.
His government took power last May amid great expectations but there has been little drive in its policy priorities so far. If the UPA-I was paralysed because of the shenanigans of coalition partners, in UPA-II it is Congress' internal battles that have taken the wind out of the sails of this government so early in its term. This is especially true on foreign and national security issues where the prime minister's authority has been openly and repeatedly questioned by the members of his party.
On Pakistan, while the government seems to have made up its mind on proceeding with talks with Islamabad [ Images ], it's not clear how the talks will proceed given public disenchantment with Pakistan's behaviour. The prime minister has staked his personal prestige on improving ties with Pakistan and he has underlined the need to deal with the trust deficit between the two sides if peace process is to have any meaning at all.
Singh and his Pakistani counterpart (Yousuf Raza Gilani [ Images ]) had agreed to resume peace talks on the sidelines of the SAARC summit last month. But the day the Prime Minister's Office revealed its plans to send 20 kilos of handpicked Alphonso mangoes to the Pakistani prime minister, Pakistan's Supreme Court upheld the decision of the Lahore [ Images ] high court to release Hafiz Mohammad Saeed, founder of the Lashkar-e-Tayiba [ Images ]. India was left merely expressing its disappointment over the decision to let the mastermind of the Mumbai [ Images ] carnage go scot free.
India-Pakistan talks are also happening in the context of growing external pressure on India to resume these talks. The Indian diplomatic debacle at the London [ Images ] conference on Afghanistan earlier this year has forced a major rethink of Delhi's [ Images ] Af-Pak policy. The first step has been to restart talks with Pakistan. While these talks may fail to produce anything concrete in the near future, the hope is that it will stave off pressure from the US to engage Islamabad.
Therefore, even though negotiations with Pakistan remain hugely unpopular at home, the Indian government has decided to proceed. India hopes that by doing so, it will be seen as a more productive player in the West's efforts at stabilising Afghanistan. It is unlikely though that this is going to happen as the West's sole concern right now is to find a face-saving exit formula in Afghanistan, and Pakistan remains central to achieving that goal.
India is debating its options in Afghanistan in a strategic space that seems to have shrunk over the last few years. By failing to craft its own narrative on Af-Pak ever since US troops went into Afghanistan in the aftermath of September 11, 2001, New Delhi has allowed the West, and increasingly Pakistan, to dictate the contours of Indian policy towards the region.
A fundamental disconnect has emerged between US and Indian interests in Af-Pak. The Barack Obama [ Images ] administration has been systematically ignoring Indian interests in the crafting of its Af-Pak priorities. While actively discouraging India from assuming a higher profile in Afghanistan, for fear of offending Pakistan, the US has failed to persuade Pakistan into taking Indian concerns more seriously.
Anxious for some kind of victory, the West has decided to court the 'good' Taliban [ Images ] with Pakistan's help. This has underlined Islamabad's centrality in the unfolding strategic dynamic in the region, much to India's discomfiture. By pursuing a strategy that will give Pakistan the leading role in the state structures in Afghanistan, the West, however, is only sowing the seeds for future regional turmoil.
While the US may have no vital interest in determining who actually governs in Afghanistan, so long as the Afghan territory is not being used to launch attacks on US soil, India does. The consequence of abandoning the goal to establish a functioning Afghan state and a moderate Pakistan will be greater pressure on Indian security. To preserve its interests in such a strategic milieu, India is rather belatedly reaching out to states like Russia [ Images ] and Iran but has found it difficult to convey to the US its displeasure regarding the changing priorities of Washington.
As India struggles to come to terms with its troubled neighbourhood, China is making its presence felt across the globe with splash. Yet, India's China policy remains in doldrums. Union Environment Minister Jairam Ramesh [ Images ] ends up accusing the Indian government (of which he is a part) of being "overly defensive and alarmist" in dealing with Chinese companies. According to him, the warming of ties between China and India as a consequence of their collaboration on global climate change negotiations was being harmed by the "suspicious attitude" of the Indian security establishment. Ramesh challenged his government's policy on a foreign soil, in essence suggesting that its is the Chinese government that is right when it underscores time and again that India, not China, is responsible for the recent downward spiral in Sino-Indian ties. It's indeed a remarkable achievement for a government minister that he ends up giving ammunition to an adversary that has left no stone unturned in challenging India's rise at every possible forum.
Meanwhile, the internal security situation in the country has gone from bad to worse. The UPA-II has failed to make even the slightest difference to India's precarious internal security situation. The prime minister during his press conference denied that the government had underestimated the Maoists, noting that for the past three years he has called them India's gravest internal security threat. But that's clearly not enough. He must first get his party behind him if he wants to take on the Maoists.
Home Minister P Chidambaram's [ Images ] detractors within the Congress are more interested in neutralising him than in confronting the Maoists. Congress General Secretary Digvijay Singh [ Images ] has not only public questioned Chidambaram's approach in tackling Naxalism but has also attacked him for not knowing the terrain of the area. He has openly demanded a rethink of the government's strategy of fighting Naxalism and accused Chidambaram of 'intellectual arrogance'.
The war against the Maoists cannot be won without depriving it of the oxygen of partisan politics. And it is important that the government speaks in one voice. The Naxalites [ Images ] have figured out that they are dealing with a political leadership which had already committed a self-goal by equating counter offensives against Naxalites with tribal alienation and which had in the process totally demoralised the security forces, who are dying in large number while the political class can pontificate from their air-conditioned rooms.
The Congress' 206 parliamentary seats in last year's election had unleashed a wave of optimism but that feel-good mood is now a thing of the past. One year into its term, the UPA-II seems to have lost its way and momentum. The prime minister makes no effort to create and mould public opinion to help him in governance and in support of his policies. Moreover, the Congress needs to hold an honest conversation with itself before it can embark any further in tackling this nation's challenges. It would be well advised not to waste an opportunity that the people of India gave it last year.