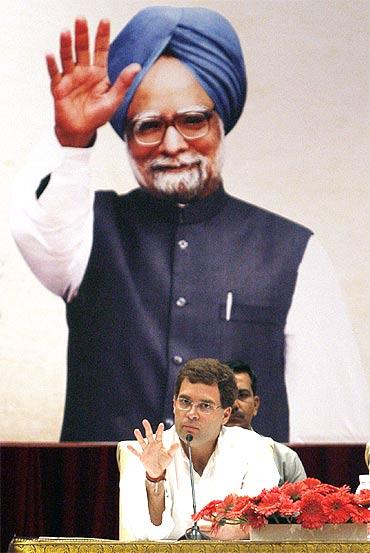 Revamping the Youth Congress and building the party at the grassroots level are positives in Rahul Gandhi's political graph. But on more serious issues facing the country and on foreign policy, his views and leanings are almost unknown.
Rahul needs more perspective and experience before he moves on to bigger things, argues Sanjay Kapoor.
Just a few days after Congress General Secretary Rahul Gandhi spent a night in a socially and economically depressed Dalit village of Uttar Pradesh, a group of local Congress party leaders accompanied by some mediapersons trooped down to this hamlet to ascertain for themselves the impact of their leader's visit.
They were in for a rude surprise.
A journalist asked the head of a Dalit family about the identity of the person who had spent time with them. "I don't know his name, but he was a sahib who came from the city. He seemed to be a good man." The response of the villagers threw off the Congress leaders who wanted to learn first hand how Rahul's politics was being received on the ground.
Enveloped in a haze of calibrated spin doctoring about the great impact Rahul was making amongst the Dalits, the constituency of UP Chief Minister Mayawati and her Bahujan Samaj Party, these local leaders did not really know how to convey their feedback to the central leadership about the manifest dichotomy between hype and reality, and also the limits to Rahul's politics in a depressingly poor and caste-ridden state where Congress has been out of power for 20 years.
True to their wont, the Congressmen kept to their volition. In the process, valuable feedback about how Congress was squaring with the BSP and other political parties was lost in this display of sycophancy. An impression that the Congress juggernaut had begun to roll and it was a matter of time when the party squelched all opposition was allowed to prosper unhindered.
Such an attitude gained impetus after party's remarkable success in 2009 parliamentary elections when it managed to win 21 Lok Sabha seats in May 2009.
Due to this reason, facile and perfunctory assessments about the prospects of the party are routinely palmed off as authentic feedback from the ground leading to some serious setbacks in by-elections to the UP assembly.
Repeatedly, it was stated that the collapse of the Bharatiya Janata Party and Mulayam Singh Yadav's Samajwadi Party would make it easy for the Congress to earn easy success in the state. These projections have been proved wrong time and again.
For instance, in the recent by-election for the Domariaganj assembly seat in eastern UP, the Congress came a poor fifth. This, despite the fact that the party did not leave a stone unturned to make its candidate win. Actress Nagma, actor and MP Raj Babbar, Congress General Secretary Digvijay Singh all showed up. Rahul's posters were stuck all over the place. A colossal amount of money was spent, but it did not really save the party from such an unedifying performance.
More than anyone else, Rahul knows how uphill the task is of reviving the fortunes of the party in UP and other states where it is not in power.
The manner in which he makes light of the noisy chatter in the party and outside to takeover from Prime Minister Manmohan Singh stems from an important realisation that first he is not ready, and secondly, he would not like to head a coalition government that has to lean on allies for survival or lead a party, which is still animated by the old guard.
His ambitions are also circumscribed by the reservations that he has expressed about giving precedence to merit, internal democracy in the organisation. When he raises these issues, it also brings to the fore the contradictions in his own persona: He is a Congress general secretary due to the fact that he is the progeny of Rajiv and Sonia Gandhi and if merit is the criteria then surely there would be many in the party who would be superior to him.
From the standpoint of intellectual merit, Dr Singh has no peers.
Rahul Gandhi though is manfully interrogating that space where merit jostles with feudalism. If his actions can be interpreted then he is trying to ascertain whether he can be the harbinger of change in a party, where ad hocism and reasons of birth take precedence over merit.
However, gentlemen general secretary that he is, he has not gone about destabilising anyone. This has created an impression that he does not enjoy the mandate to change or chop intermediate leadership of his party till his mother, Sonia Gandhi and her lieutenant, Ahmed Patel, control the organisation. His conservative approach has made him look weak and ambivalent. Sample this chaos!
In UP, where Rahul spends copious time nursing his constituency and battling Mayawati, he still has to work with the likes of Pramod Tewari and Jagdamika Pal -- hardly the kind that can afford a fight with the state government that is always willing to reveal the content of its patronage to them.
Worse these state leaders are allowed to rubbish the state party boss, Rita Bahuguna, without incurring any censure from the young leader. The intent of giving this example was to state that Rahul does not want to upset the status quo and worse he does not have, too, many people in the state unit that he can lean on.
Rahul's approach to rebuilding the Congress party sharply differs from the one adopted by his late uncle, Sanjay Gandhi. Sanjay was a bully who had an army of friends and supporters, whom he parked in the party and later in the government. If we use Hannah Arendt's construct then power was wielded by Sanjay like a music conductor of an orchestra. This analogy implies that you should have your people in the right places and they should working in unison.
Sanjay had chief ministers, party general secretaries and roughnecks. Anyone who made a contrary noise was shouted down, hustled and forced to submit to the diktats of the leadership. Although some of these methods were unsavoury, fascistic and disreputable, in a party where loyalty means keeping your mouth shut, Sanjay's rough and ready approach worked well.
Rahul is different. Inherently decent, he is not known to throw his weight around. Ministers like P Chidambaram and Kamal Nath, who have seen Rahul grow up, don't mind shouting his name out and beckoning him. Something that is perfectly acceptable in a flat democratic party, but would not have been entertained by his imperious uncle or even his father.
Rahul displays clarity when it comes to articulating his vision about the party. He believes that the Congress should come to power with a clean and stable government. As he does not have friends like his father and uncle or cadres, he has to resort to HR devises like talent hunts and campus recruitment. It is unclear whether this is the right way to beef up a political party, but Rahul's efforts have resulted in bringing in talent from different fields, which would have otherwise shied away from politics. Some of those whom Rahul selected won in the 2009 general election.
Rahul's manifest minimalism is visible in the way he has gone about organising Youth Congress elections. To ensure that they are free and are not skewed in favour of the money bags, he even had a former Election Commission official to supervise the polls. For the first time in many years, the Youth Congress elections created great excitement all over the country.
At times it used to be unusual to find senior Congress leaders worried about the outcome of youth elections. "We have little control over the results of these elections and it worries us," claimed a Congress leader from a southern state.
Besides rebuilding the party from below, Rahul is trying to plug himself to global network of young leaders. He took then British foreign secretary David Milliband to his Amethi constituency. Similarly, he took Microsoft boss Bill Gates to parts of UP.
Despite this, he is yet to acquire a more nuanced view of foreign policy.
There have been very few occasions that he has been seriously interrogated on country's troubled neighbourhood. Last year he had kicked up storm by stating that his family was responsible for the break up of Pakistan. He has also said a few times that India stop paying inordinate attention to our western neighbour. But he has remained silent on other foreign policy matters including the happenings in Iraq, Afghanistan or for that matter the Gaza flotilla controversy. It would be interesting to know what his views are on these subjects.
Rahul would have to go through a serious scrutiny on issues of corruption dogging his party's government, the telecom scandal for instance, climate change and most importantly about what his vision for India's development is.
Is he in favour of mining companies that are displacing tribals? Or is it more inclusive? And what about the Maoist challenge to the Indian State? The Congress party and the country would like to hear more from him rather than Digvijay Singh.
There are hundred of such issues where Rahul Gandhi would need to build a perspective before he is able to step into Prime Minister Singh's shoes in 2012 or later. Little wonder that the young prince looks a touch reluctant to be the king soon.
Sanjay Kapoor is editor of the Delhi-based Hardnews magazine.